India corruption: Activist Anna Hazare calls off fast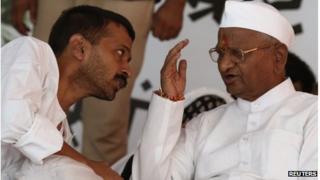 Indian anti-corruption activist Anna Hazare has called off a protest hunger strike after announcing plans to enter politics.
Mr Hazare began his fast last Sunday. Two aides, Arvind Kejriwal and Gopal Rai, had gone without food for 10 days.
The decision to call off the fast came after the health of Mr Kejriwal and Mr Rai deteriorated.
Mr Hazare is demanding an independent ombudsman to prosecute politicians and civil servants suspected of corruption.
The so-called Lokpal bill was passed by the lower house of parliament in December. But the upper house adjourned amid chaos without passing the controversial legislation.
On Friday evening, Mr Hazare drank coconut water from a steel glass to end his fast. His aides, too, ended their fast.
"I will not contest any election but I am supporting this political movement because people want it," Mr Hazare said in his speech minutes before ending his fast.
"We will travel across the country and wake up the people... This fight against corruption will continue."
Speaking before Mr Hazare, Mr Kejriwal announced their plans to form a political party and asked people to suggest a name for their party.
"We will fight corruption within and outside the parliament," he said and added: "I believe India will change in the next three years."
A 12-day fast by Mr Hazare a year ago almost brought the government to its knees and led to the introduction of the Lokpal bill in parliament.
He started another hunger strike in December but called it off and threatened instead to launch a campaign of civil disobedience that would fill the country's jails.
The next general election in India is due by the summer of 2014.