India court refuses to extend Sanjeev Nanda jail term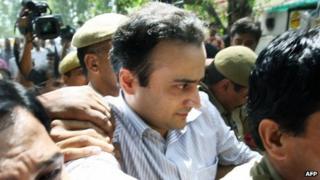 India's Supreme Court has refused to extend the jail term of Sanjeev Nanda, the son of a wealthy arms dealer, convicted in a hit-and-run case.
But the court ordered him to pay a fine of 5m rupees ($89,000; £57,000) and do community service for two years.
In 2008, Nanda was sent to jail for five years for running over and killing six people in Delhi in January 1999 while driving under influence.
In 2009, the Delhi High Court reduced his jail term to two years.
Friday's Supreme Court ruling means Nanda, son of arms dealer Suresh Nanda, does not have to spend any more time in prison.
The court said the fine money paid by him would be utilised for paying compensation to hit-and-run accident victims on Indian highways.
The so-called "BMW hit-and-run case" attracted a lot of attention in India, specially after several witnesses changed their testimony during the trial, amid accusations that they had been bought off by the wealthy Nandas.