India battered child Shaurya's 'monster' parents jailed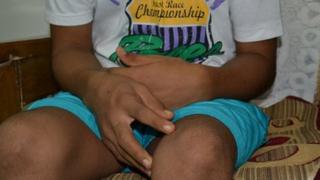 A court in the Indian capital, Delhi, has sent a couple to jail for 10 years for battering their child. Young Shaurya was assaulted so badly from 2002 to 2005 that he developed physical abnormalities. The BBC Hindi's Vineet Khare travels to the city of Jaipur to meet the boy, now 13, who lives with his grandparents.
Shaurya Balhara was only three when the abuse began.
It was February 2002 when his father Lalit, a retired army major, married Preeti after the death of his mother Meenakshi, a doctor.
In April, Shaurya was admitted to a Delhi military hospital for "swallowing insecticide".
Six months later he had to be admitted to the hospital's intensive care unit after a head injury paralysed the left side of his body.
Over the next three years, he was taken to hospital repeatedly, often with multiple injuries and fractures.
"An anonymous caller from Delhi alerted us to his condition. We were told that Shaurya is in danger," says his Jaipur-based maternal uncle who does not want his name to be mentioned because he is a serving member of the Indian army.
That was when the grandparents approached the courts which handed over the custody of the toddler to them.
'Monsters and butchers'
After a long legal battle, the court last week convicted the parents of "attempt to murder" and on Saturday, sent them to jail for 10 years.
Additional Sessions Judge Virender Bhat was scathing in his criticism of the parents whom he described as "monsters and butchers".
"The convicts did not commit the crime on the spur of the moment but continued doing so systematically and with meticulous planning," he said.
"The victim was the convict's own son whom they were morally and legally duty-bound to maintain, educate and make a good citizen.
"They were his guardians and protectors but instead became butchers and monsters for him... They are highly educated and knew the distinction between right and wrong, lawful and unlawful," the judge said.
For Shaurya, it has been seven years since, but the scars remain.
Now 13, he was about to go out to his friend's place when we arrived at the Jaipur home.
Is it all right to talk to him about his past, I hesitatingly asked after some time.
"Yes, you can. He is an intelligent child and has been following the case," his uncle said.
What struck me about the young, bespectacled Shaurya was his keenness to share the horrors he said he experienced at the hands of his parents.
Moving his hands animatedly in the air, he tried hard to capture the distressful images of the past.
But his actions were not supported by his slow, slurred speech.
He found it incredibly hard to string words together and talk coherently.
Cruel times
"His parents used to force a stick inside his mouth that broke his teeth and severely injured his tongue. Initially, he even had difficulty in eating and drinking," Shaurya's grandmother Savitri Verma said, adding that the child was undergoing speech therapy.
"Medical reports said that he sustained 15-16 fractures. His body was badly bruised. We want him to forget his past, but his mind is filled with those scary images," said his uncle.
Shaurya's swollen tongue and upper lip and the injury marks on his skull are all stark reminders of the cruel times he faced.
"They beat me up so badly that I fell unconscious. My entire body used to be covered in blood," he said, his face as calm as before as if untouched by any emotion or expression.
He talks like a grown-up, giving straight answers in simple words.
"I was kept starved and given filthy water to drink. They would lock me inside the bathroom and leave home. I was held up in the air, moved in circles and banged against the wall."
The military hospital reprimanded Shaurya's parents but Lalit and Preeti - parents to two other children - criticised the hospital's report, calling it "biased".
"An independent panel of doctors examined the child and found the reports correct," Ravinder S Garia, Shaurya's lawyer, said.
His parents contended that the medical records were fabricated and the child was prone to accidents.
All attempts to contact the parents' lawyer for an explanation of their behaviour failed.
Shaurya's grandparents suspect he was battered "for monetary benefits since he was insured" but this cannot be confirmed.
But why take the child to the hospital after harming him knowingly?
"It would have been a good excuse, in case Shaurya succumbed to his injuries," said his uncle.
As Shaurya struggles to leave his painful past behind, his grandparents say they fear a "bleak future" awaits him.
"We are trying hard to bring him up like a normal child. He has improved a lot but we are unsure what will happen to him when we are not around," says grandmother Savitri.
"I tell him not to think of his past but focus on studies and the good things in life. I have also been asked to consult a psychiatrist."
Meanwhile, Shaurya goes to the gym, does yoga and is undergoing physiotherapy sessions to improve the paralysed left side of his body.
"He is a bright child who knows his deficiencies. He loves to socialise and make friends, perhaps a consequence of his troubled past," Mrs Verma says.
As I prepare to leave, I ask Shaurya whether he is angry about what he went through.
He stays silent for a few seconds and then the words slowly come out.
"They were bad to me. Let them go to hell."