Hamid Ansari wins India vice-president poll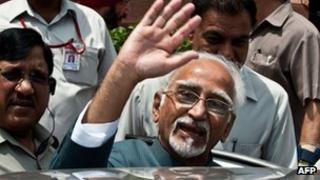 Hamid Ansari has won the Indian vice-presidential election for the second successive time.
Mr Ansari, a former career diplomat, beat rival Jaswant Singh by 490 votes to 238 to retain the position.
The vice-president's position is largely ceremonial. The term runs for five years.
Last month, former Finance Minister Pranab Mukherjee won the presidential election. He replaced Pratibha Patil, who was India's first woman president.
Mr Ansari, 75, was backed by the ruling Congress party and its allies, while Mr Singh was supported by the opposition, led by the Hindu nationalist Bharatiya Janata Party (BJP).
Nearly 800 MPs were eligible to vote in Tuesday's poll.