India PM faces opposition over coal report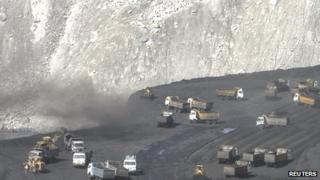 India's parliament has been disrupted again on Wednesday over a recent report that the country lost $33bn by selling coalfields cheaply.
Opposition parties are demanding that Prime Minister Manmohan Singh should quit since he was heading the coal ministry then.
The government auditors in their report last week said coalfields were allotted without auction from 2005 to 2009.
The report by the independent auditor has, however, exonerated Mr Singh.
Mr Singh has offered to make a statement in the parliament on the government's position on the report.
"We are ready to discuss whatever the opposition wants," he told a news channel.
A spokesman of the main opposition Bharatiya Janata Party (BJP) said it was not interested in Mr Singh's statement.
"We just want him to quit," Prakash Javadekar said.
The parliament was adjourned on Tuesday after an uproar over the report.
India is one of the largest producers of coal in the world.
The auditor's report on the sale of coal is the latest in a series of financial scandals to hit the Congress-led government and the revelations have caused anger among the opposition politicians and citizens alike.