North-east Indian migrants returning to Bangalore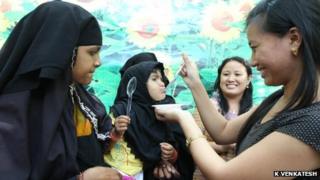 Hundreds of people from north-east India, who had fled the southern city of Bangalore fearing reprisal attacks in recent days, have started returning.
Officials say the situation in the city and other parts of Karnataka state is now normal.
They blamed the exodus of more than 20,000 people on "rumours" linked to clashes in north-eastern Assam state.
After the Assam violence, threatening messages were sent to migrant workers and students from the north-east.
Panic set in and people began fleeing the south and west after a Tibetan was knifed by an unidentified attacker in the city of Mysore. Police say they believe the attackers mistook him to be from Assam.
"They are all slowly coming back. Bangalore is normal. We have taken all measures to maintain peace," additional commissioner of police Sunil Kumar told the BBC.
He said 22 people had been arrested for "rumour-mongering, assaulting and threatening" students from the north-east and riot police have been deployed in sensitive areas of the city where north-easterners live.
North-eastern residents of Bangalore said the state government's confidence building measures, including holding peace meetings with Muslim leaders, had helped maintain peace.
At least 87 people died in fighting between indigenous Bodo tribes and Muslim settlers in Assam in recent months.