India court rejects Chidambaram role in 2G scandal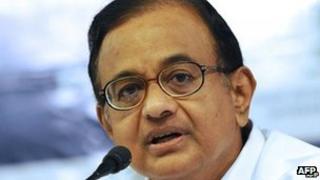 India's Supreme Court has rejected two petitions which had sought an inquiry into Finance Minister P Chidambaram's role in connection with the country's biggest corruption scandal.
Justices GS Singhvi and KS Radhakrishnan ruled that the petitions filed by Janata Party chief Subramanian Swamy were "not maintainable".
The scandal pertains to alleged mis-selling of telecommunications licences.
Government auditors say the scandal cost the country about $40bn (£24.5bn).
Mr Swamy and other Opposition MPs have accused Mr Chidambaram of not doing anything to stop the telecoms scandal during a previous tenure as finance minister. Mr Chidambaram has always denied any wrongdoing.
Correspondents say Friday's court order will be a big relief for the government as it comes at a time when the ruling Congress party is facing a tough time in parliament following recent revelations that government undersold coalfields to private companies.
Mr Swamy said he would seek a review of the ruling from the Supreme Court.
The telecoms scandal - often referred to as the 2G spectrum case - has badly damaged the reputation of the government.
Former telecommunications minister A Raja and DMK lawmaker Kanimozhi are among 14 people charged in connection with the case. They all deny any wrongdoing.
Mr Swamy alleges that decisions over the price of telecoms licences were taken jointly by Mr Chidambaram and Mr Raja.
He says Mr Chidambaram as finance minister could have prevented Mr Raja from allocating bandwidth on a "first-come-first-served" basis.