India: Thousands flee home after fresh Assam violence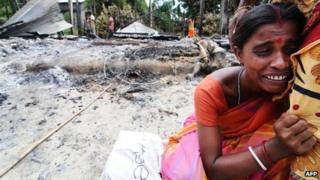 More than 4,000 people have fled their homes in India's troubled north-eastern Assam state following fresh violence, officials say.
The exodus took place in the western district of Barpeta after violence erupted there on Wednesday during a strike called by Muslim groups.
Police said one man died in the clashes and more than 40 others were injured.
The newly displaced people have taken shelter in three new camps near the Barpeta Road town.
Nearly 100 people have died in fighting between indigenous Bodo tribes and Muslim settlers in Assam since last month.
More than 300,000 people fled their homes after the fighting and most of them are still living in relief camps.
The latest violence and exodus come at a time when the Assam government is trying to send back those displaced during the last month of ethnic violence.
The Indian home ministry has asked the Assam government to take strict action to control the violence.
"We have even asked them to arrest senior politicians if they are found to be inciting violence," a home ministry official told the BBC.
But Assam government officials say that such arrests may add to their troubles.
Last week, Assam police arrested a lawmaker of the state assembly, Pradip Brahma, who was accused of leading mobs of Bodo tribespeople in attacks on Muslim villages.
But thousands of his supporters blocked road and rail traffic in western Assam's Kokrajhar district for days.