India gangster Arun Gawli jailed for life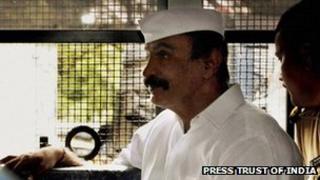 A court in India has sentenced gangster-turned-politician Arun Gawli to life imprisonment for murder.
Gawli and 11 others were found guilty of murdering Kamlakar Jamsandekar, a Mumbai politician from the Hindu nationalist Shiv Sena party, in 2008.
The court also convicted him for extortion and for being a member of the "organised crime syndicate".
Gawli was elected to the Maharashtra state assembly in 2004 from the Akhil Bharatiya Sena party.
"Instead of death I am giving you life imprisonment," Judge Prithviraj Chavan said.
The court also ordered him to pay a fine of 1.7m rupees ($30,532; £19,344).
Police say Gawli's gang was paid 3m rupees ($53,883; £34,136) for killing the politician over a land deal.
During arguments in the court, Gawli argued that there was no reason for him to kill for such a "paltry" sum.
He said he would appeal against his conviction.