India parliament deadlocked again over sale of coalfields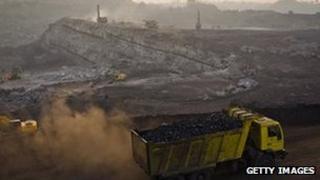 India's parliament has been deadlocked for the ninth consecutive day over the sale of coalfields by the government.
India's main opposition Bharatiya Janata Party (BJP) has set out conditions to break the deadlock.
The BJP said the government should cancel the sale and order an independent probe into the matter.
It has been insisting that PM Manmohan Singh should resign over a recent report that the country lost $33bn (£20bn) by selling coalfields cheaply.
Although the report by government auditors has exonerated Mr Singh, BJP leaders say he must resign as he was heading the coal ministry at the time of the sale.
The report said that coalfields were allotted without auction from 2005 to 2009.
Mr Singh denies any wrongdoing and has refused to quit.
The parliament has been deadlocked since 21 August over the issue.
On Sunday, BJP leader Sushma Swaraj said that if the government agreed to cancel coal licenses and ordered an "independent and fair probe" into the matter, then "we can start the discussion and parliament can function".
The government has not reacted to the demand.
The ongoing monsoon session is due to end on 8 September.
There are some 30 pending bills for consideration and passing into laws during the session.
The sale of coalfields has been dubbed "Coalgate" by the opposition.
India is one of the largest producers of coal in the world.
The auditors' report on the sale of coal is the latest in a series of financial scandals to hit the Congress-led government, and the revelations have caused public anger.