India Gurgaon highway stops collecting road tolls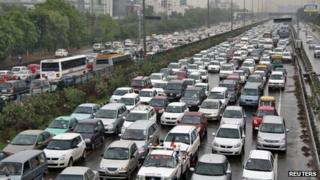 The operators of a major highway in India have stopped collecting tolls for a fortnight following a court order.
The court said the operators of the eight-lane highway connecting the capital, Delhi, with the suburb of Gurgaon had failed to ease traffic congestion at the toll gates.
Nearly 200,000 vehicles take the highway daily. Sometimes they take up to 20 minutes to clear the toll gates.
The 27km (16-mile)-long expressway opened in 2008.
Vehicles were seen speeding through the unmanned toll gates on Wednesday morning.
In its order on Tuesday, the Punjab and Haryana High Court said the operator had failed to comply with its earlier order of finding a solution to end traffic congestion.
The court had asked Delhi-Gurgaon Super Connectivity Limited (DSCL) to take steps to decongest the toll gates by putting additional collection windows and deploy more people to manage the traffic.
The operators say they have been doing their best to manage the growing traffic and are unable to put up more gates to collect toll because of unavailability of land.
The next court hearing in the case is due on 20 September.