Manipur explosion injures two policemen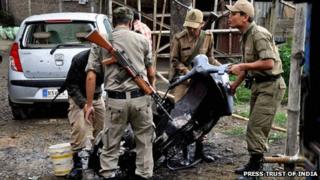 Two paramilitary policemen have been injured in a blast in Imphal, the capital of India's troubled north-eastern Manipur state.
The Assam Rifles personnel were on a patrol in Keishampet locality when explosives placed in a two-wheeler scooter went off, police said.
Reports said the condition of one of the injured policemen was serious.
The state of Manipur borders Burma and has many separatist groups fighting for independence from India.
But, it was not known which of the groups was behind the explosion.
Keishampet is known to be a stronghold of the separatist group Peoples' Liberation Army (PLA) of Manipur and is known to be close to India's Maoist rebels.