India floods kill 12 in Uttarakhand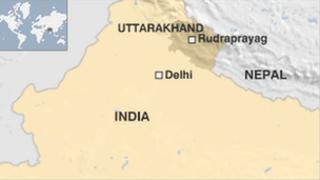 At least 12 people have died following heavy rains in the Indian state of Uttarakhand's Rudraprayag district.
Officials said dozens of houses had caved in.
A large number of people are feared trapped in the debris and rescue operations have been launched, Press Trust of India quoted disaster management officials as saying.
They said the floods followed heavy rains which have been falling continuously since Thursday.
Timada, Sansari, Giriya, Chunni and Mangali villages in the district are among the worst affected, officials said.
Last month, at least 34 people were killed by heavy monsoon rains in the state.