India coal: Court asks government to explain allocations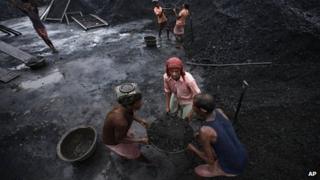 India's Supreme Court has asked the government to explain allegations of corruption in the allocation of coalfields to private companies.
The authorities were given eight weeks to explain "if guidelines were followed while allotting the natural resource".
Last month, state auditors said India lost $33bn (£20bn) allotting coalfields at below market rates.
The controversy has sparked a political row with the opposition demanding that the allocations should be cancelled.
Although the report by government auditors does not mention Prime Minister Manmohan Singh, leaders of the main opposition Bharatiya Janata Party (BJP) say he must step down as he also had direct responsibility for the coal ministry when most of the coalfields were granted to companies between 2006 and 2009.
Mr Singh denies any wrongdoing and has refused to quit.
'Coincidence?'
"What were the guidelines [for allotting coalfields] and whether any guidelines were flouted during the allocation process," Justices RM Lodha and Anil Dave asked on Friday.
"Is it a coincidence that the relatives of politicians benefitted?" they asked.
Solicitor General Rohinton Nariman, who represented the government in court, said a parliamentary committee was studying the coalfields allocation and that a court hearing would become a parallel investigation.
But the judges said the government owed an explanation on "the distribution of state property".
On Thursday, the coal ministry scrapped the allotment of four coal blocks saying that they had not been developed on schedule.
Earlier this month, the Central Bureau of Investigation (CBI) carried out raids across 10 cities, searching the premises of five companies, which allegedly misrepresented facts prior to being allocated the coalfields.
Reports said some of the companies were set up only to obtain the coalfields being allocated by the government and then sell them off at profit. Media reports also alleged that the companies involved misrepresented their ability to mine the coal.
India is one of the largest producers of coal in the world.
The auditor's report on the sale of coalfields is the latest in a series of financial scandals to hit the Congress-led government, and the revelations have caused public anger.