Two killed in Kashmir gun battle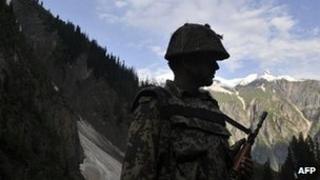 A suspected militant and a soldier have been killed in a gunfight in Indian-administered Kashmir, the army says.
The incident took place in Handwara town after a night patrol was ambushed by some armed men. a senior official said.
In recent months, there has been a lull in violence in Kashmir, which is claimed by both India and Pakistan.
Thousands of people have been killed in the state since an armed revolt against Indian rule erupted in 1989.
The Indian army claims that some armed groups have infiltrated into the Kashmir Valley recently.
But this has been challenged by the local police, who insist the security situation in the state has improved over the past few years.
Meanwhile the authorities are tackling a fresh security crisis due to attacks on elected village council heads known as sarpanchs.
Ten village heads have been killed by alleged militants in the last two years, officials say.
Jammu and Kashmir Chief Minister Omar Abdullah, has said 3,000 village heads would be provided with security cover.