India landless begin long march to Delhi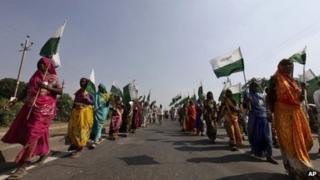 Tens of thousands of landless poor have begun a march to the Indian capital, Delhi, demanding their right to land.
The march began on Wednesday morning in Gwalior city in the central state of Madhya Pradesh, organisers said.
The protesters would cover the distance of about 350km (217 miles) to reach Delhi by the end of October, they said.
On Tuesday, the government sent two ministers in an attempt to persuade the protesters to call off their march but they were unsuccessful.
Rural Development Minister Jairam Ramesh and Commerce Minister Jyotiraditya Scindia met the organisers - a non-governmental organisation called Ekta Parishad - to accept the government's promise that a draft national land reform policy would be prepared in six months, The Hindu newspaper reported.
"Discussion is always a better option than agitation... Go home, we will find the middle path," the paper quoted Mr Ramesh as telling the protesters.
But the protesters, mostly tribespeople and landless labourers, insist that each of them must be given a piece of land.
The participants in the Jan Satyagraha [people's movement] march say welfare programmes like the rural jobs for work scheme are no solution to poverty.
They say only land and sustainable livelihood generation can achieve real poverty reduction and lift tens of millions out of poverty.
The protesters say they plan to hand over a memorandum to the government to highlight the problems of landless poor.
Land has become a huge political issue in India where the government needs land for industry or infrastructure projects, but farmers and tribals say that cannot happen at their expense.
Last year, there were violent clashes between farmers and police in the Bhatta-Parsaul villages of northern Uttar Pradesh state over the acquisition of farmland for road and industry.
And in 2009, the Tata group was forced to abandon plans to set up a factory at Singur in West Bengal to build the Nano - the world's cheapest car - after protests by farmers.