India minister Sharad Pawar denies hill city 'land scam'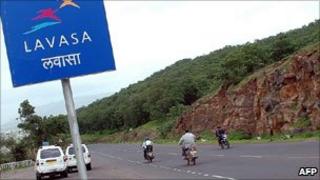 A senior Indian minister has denied charges that he and his family acquired land illegally in a privately built hill station city in Maharashtra.
Farm minister Sharad Pawar said the state government had followed rules in giving land to the Lavasa hill city.
Earlier activist YP Singh alleged that authorities had sold the land cheaply to the builders, in which Mr Pawar's daughter and son-in-law held shares.
Lavasa is reportedly India's "largest urban infrastructure project".
The company's website describes the project as "India's first planned hill city" - it said that the city was spread over 25,000 acres, including seven hills, and boasted 60km (37 miles) of a lake-front area.
Former police officer turned lawyer-activist YP Singh alleged in Mumbai on Thursday that the former deputy chief minister of Maharashtra, Ajit Pawar, who is Sharad Pawar's nephew, had "misused" his powers to give away 348 acres (141 hectares) of land "at throw-away prices" to the company which built the hill city in 2002.
'Flagrant disregard'
Mr Singh said the farm minister's daughter, Supriya Sule, who is an MP, and her husband, Sadanand Sule, held shares in the company, Lake City Corporation, which was later renamed Lavasa Corporation.
Mr Singh said it "defied imagination how prime land could be awarded on a one-on-one basis through an internal reference, without any public auction, in flagrant disregard of Supreme Court norms".
Sharad Pawar defended the transfer of the land, saying it had been awarded by the government in accordance with its policies relating to hill stations.
He said a large part of the land was "submerged in water and there had been no construction" there.
Mr Pawar admitted that his daughter and son-in-law held shares in Lavasa Corporation, but they had sold their stake in 2005-2006.
The allegations against Mr Pawar came a day after anti-corruption campaigners, led by Arvind Kejriwal, alleged that the chief of India's main opposition Bharatiya Janata Party, Nitin Gadkari, was involved in a massive corruption scandal.
Nitin Gadkari said he was ready for an investigation into allegations he was involved in an irrigation scam worth millions of dollars.
In recent days, Mr Kejriwal has made serious corruption allegations against Law Minister Salman Khurshid and Robert Vadra, son-in-law of the ruling Congress party chief Sonia Gandhi.
Both men strenuously deny the allegations.