Bengal mourns poet-novelist Sunil Gangopadhyay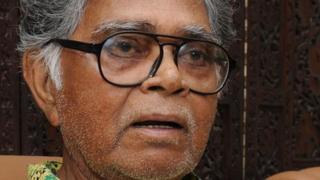 As the Indian state of West Bengal celebrates the nine-day Durga puja festival, people there are mourning the death of Sunil Gangopadhyay, one of the state's greatest literary figures.
Though Gangopadhyay wrote exclusively in Bengali throughout his literary life, spanning more than 60 years, he was well-known and admired in the rest of India.
Indeed at the time of his death, he was the chief of Sahitya Akademi - or the National Literature Academy of India.
Gangopadhyay worked for the Bengali literary magazine, Desh, for many years.
Though he excelled in all formats like novels, short stories and newspaper columns, Gangopadhyay himself used to say that his "first love" remained poetry.
"His first poetry in Desh magazine was under my editorship. He was only 15 at that time. I was Desh's poetry editor," said poet Nirendranath Chakraborty.
Nira - a fictional lady character who featured in many of his poems - was loved by thousands of his readers.
Hair-raising adventures
He was also the founder editor of Krittibas, a poetry magazine that offered a platform to a new generation of poets experimenting with new forms and rhythms.
The author and poet often wrote under "pen-names" and some of his aliases were Nil Lohit, Sanatan Pathak and Nil Upadhyay.
For a series of adventure stories, he created two much-loved characters - Kakababu (uncle), a disabled former army man, and his nephew.
Children, as well as adults, loved this two-man team and their hair-raising adventures - some based in the Indian archipelago of the Andamans and others in the dense forests of Africa.
His romantic novels, written under the pen-name Nil Lohit, were also huge hits.
The lead character in these novels was also named Nil Lohit, or Nilu.
The 27-year-old character encapsulated the common middle-class youth who is unemployed, loves to travel, falls in love frequently, has a wanderlust and has to be cajoled into doing any work.
Gangopadhyay wrote several historical novels too, including Shei Somoye (At That Time), Prothom Aalo (First light) and Purab Paschim (East West).
Shei Somoye - based in the pre-renaissance period of Bengal - received the Sahitya Akademi award in 1985 and continues to be a bestseller nearly three decades after it was first published.
Purab Paschim - the story of three generations of a typical Bengali family living through the partition of Bengal and its aftermath, the Bangladesh war, and the Naxalite movement - was serialised in Desh magazine for several years.
Some of Gangopadhyay's works were also adapted for the screen.
His novel Moner Manush (The man of the heart), based on the life of Lalan Fakir - famous 19th-century poet and balladeer - was turned into a film which won a prestigious award at the 2010 National Film Festival.
Bengal's best-known film director Satyajit Ray adapted two of Gangopadhyay's novels - Araneyer Dinratri (Days and Nights in the Forest) and Pratidwandi (Competitor) - for the big screen.
Widely translated in other Indian languages, Gangopadhyay was very popular in the neighbouring Bangladesh too.
When American poet Allen Ginsberg visited India, he became friends with Gangopadhyay and mentioned him in his poem September on Jessore Road, written during the liberation war of Bangladesh.
'Repetitive'
There is hardly any known literary magazine in West Bengal and Bangladesh to which Gangopadhyay did not contribute.
Some literary critics say that some of Gangopadhyay's latest works have been a bit repetitive and seemed to have lost their charm.
With age, many say, he lost the sharpness and uniqueness which marked his early and mid-career writing.
During the Durga puja, most Bengali literary and other magazines published special editions and Gangopadhyay's writings always featured. This year has been no exception.
For the children's magazine Anandamela, he wrote a novel Golokdhadaye Kakababu, for the literary magazine Desh he wrote a novel called Saraswatir payer kachhe (Near the feet of goddess Saraswati), for Anandabazar newspaper he wrote Je proshner uttor nei (The question which has no answer) and for Patrika he wrote Ekekta din onyorokom (Every day is different).