India: Tamil Nadu and Andhra Pradesh on cyclone alert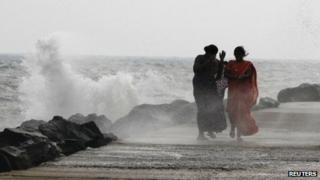 Authorities in southern India have been put on alert as the weather office predicts that a cyclone may hit parts of two states on Wednesday.
Heavy rains have been forecast in Tamil Nadu and Andhra Pradesh, and the cyclone could make landfall on Tamil Nadu's northern coast.
Schools and colleges in Tamil Nadu's capital, Chennai, are shut after forecasters predicted heavy rains.
Fishermen in both states have also been warned not to venture out to sea.
Reports say the cyclone could make landfall anywhere between Nagapattinam and Nellore on the south-eastern coast.
In December 2011, more than 30 people died and many homes were damaged after a cyclone near the town of Pondicherry.
And in May 2010 at least 23 people died as a powerful cyclone caused widespread havoc across the southern state of Andhra Pradesh.