Ban on India cricketer Azharuddin overturned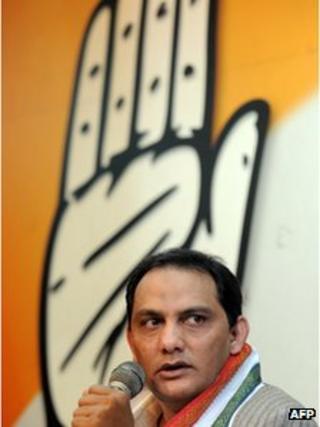 A court in India has overturned a life ban imposed on former India cricket captain Mohammad Azharuddin by the country's cricket authorities.
Azharuddin, 49, had been banned from playing all forms of cricket in 2000 following allegations of match fixing.
The high court in Andhra Pradesh ruled that the ban on the cricketer was "illegal and unsustainable".
Azharuddin, now an MP, was one of India's most successful captains, and finished his career with 99 Tests.
"I'm relieved," he told a news conference after the ban was lifted.
"I have no desire to play cricket again. I've not played cricket for a long time, so playing is no longer on the cards.
"But I'm interested in doing something in cricket. I want to help young cricketers with my experience.
"I was destined to play 99 Tests and I don't think I will add to this."
The Board of Control for Cricket in India (BCCI), which runs the game in the country, had considered lifting the ban in 2006.
But it was held back by the International Cricket Council (ICC), which said that only it could allow the cricketer to resume playing the game.
"It is not true that the BCCI had lifted the ban on me in 2006," added Azharuddin, who has battled to fight to clear his name.
Senior BCCI official Rajiv Shukla said that the board would "study and analyse" the judgement, before taking a decision on whether the ban would be revoked.
Azharuddin, who made his international debut in 1984, scored 15,593 runs for India in 99 Tests and 334 one-day internationals, the last of which came in June 2000.
He shot into the limelight with a record three hundreds in his first three Tests against England, and also scored a hundred in his last Test innings.
Azharuddin joined politics in 2009 and is now a Congress party MP from Moradabad in the northern state of Uttar Pradesh.