India parliament to hold economic reforms vote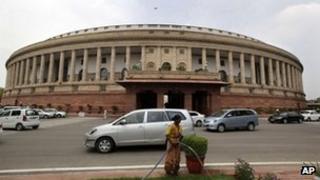 India's parliament will hold a vote on the government's controversial decision to open the retail sector to foreign competition.
The ongoing winter session of parliament has been deadlocked over the issue since last week.
Opposition parties have been insisting that a debate on the decision must be put to a vote.
Both the houses of the parliament have now resumed normal business after a week.
"The date and time of discussion on FDI [foreign direct investment] in multi-brand retail will be decided later," the Lok Sabha (the lower house) Speaker Meira Kumar announced on Thursday morning.
The discussion in the lower house will be held under Rule 184 which entails voting, she added.
Leader of opposition in the Lok Sabha Sushma Swaraj thanked the Speaker and assured "smooth functioning of the house".
In the Rajya Sabha (the upper house), Chairman Hamid Ansari agreed to hold a discussion on FDI in retail under Rule 168 which entails voting.
The main opposition Bharatiya Janata Party (BJP) and left-wing parties have been insistent that a debate on economic reforms must be held under rules that include voting.
The Congress-led government initially refused the demand but agreed later after its allies pledged support in the event of a parliamentary vote.
"We are confident of numbers," Prime Minister Manmohan Singh said on Tuesday, indicating that the government had the backing of enough MPs to win should a parliamentary vote be held.
Opposition parties say allowing foreign supermarket chains to set up will put small shops out of business and hurt the poor.
The government says the reforms are needed to revive the slowing economy.