Mulayam Singh Yadav: India court says corruption probe to continue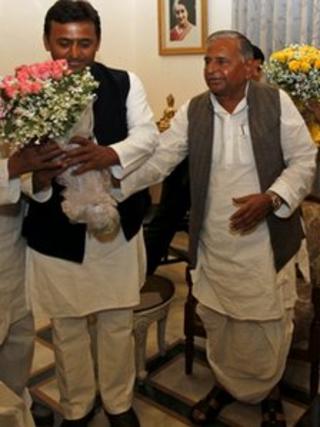 India's Supreme Court has directed a federal investigation agency to continue its probe into corruption cases against the prominent regional leader Mulayam Singh Yadav.
The Central Bureau of Investigation (CBI) was also ordered to probe Akhilesh Yadav, Mr Yadav's son and chief minister of Uttar Pradesh state.
But, an inquiry against Dimple Yadav, Akhilesh Yadav's wife, was dropped.
The Yadav family deny the charges against them.
Mulayum Singh Yadav and his family lead the regional Samajwadi Party. They say they are being harassed by political adversaries.
The Supreme Court had ordered a CBI inquiry on 1 March 2007 into allegations that the Yadav family had accumulated assets "disproportionate to their income".
Correspondents say the ruling is a setback for the Yadavs who had requested the court to drop the cases against them.
Mulayam Singh Yadav has been three-time chief minister of Uttar Pradesh and his Samajwadi Party MPs recently helped the Indian government win a crucial vote in parliament on opening the retail sector to foreign investment.
Akhilesh Yadav, who led the party to a spectacular victory in the state assembly elections earlier this year, took over from his father as the chief minister.
His wife, Dimple, was recently elected an MP.