Playboy unveils India 'bunny' costume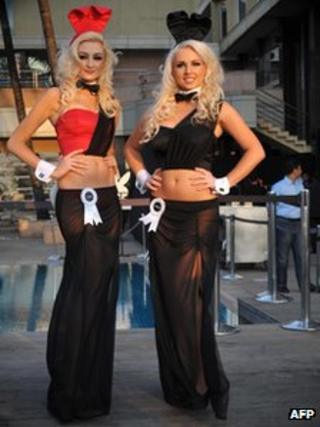 Adult entertainment company Playboy has unveiled an Indian-style "bunny" outfit for its first club in the country.
A two-piece costume inspired by the traditional Indian sari will replace the tight corset usually worn by the Playboy hostesses, or bunnies.
The aim is to introduce the brand in a "responsible and meaningful way", Matthew Nordby of Playboy Enterprises told AFP news agency.
The club is due to open early next year on north Goa's Candolim beach.
The costume comprises a skimpy shoulder top, bare midriff and full-length skirt with split, the agency reports.
Traditional "bunny" ears and fluffy tails remain, however, as do the bow-ties.
The modified costumes have been adapted keeping in mind India's more conservative and traditional values, the company says.
Playboy, along with several other adult magazines, is banned in India under the country's obscenity laws.
PB Lifestyle, the Indian firm with rights to the Playboy brand, plans to set up eight Playboy Clubs over three years and have 120 clubs, bars and cafes in 10 years.
The so-called "bunnies" who will be serving the customers have arrived in India from abroad and are already "going through a rigorous bunny training programme", said Mr Nordby.
Earlier this year Bollywood's Sherlyn Chopra became the first Indian to pose naked for Playboy magazine.