Indian raises train fares for all passengers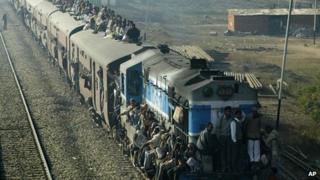 India's Railway Minister Pawan Bansal has announced the first across-the-board train fare increases in 10 years.
He said the 20% rise would come into effect on 21 January to raise $1.2bn (£747m) for maintenance, cleaning and other improvements on the network.
First class and other fares have risen before but general compartments used by millions of the poor have been spared.
India's state-owned railway operates 7,000 passenger trains and carries some 13 million passengers daily.
Last year the government rolled back plans to raise the fares after a coalition ally protested against them.