India to display Kallenbach papers about Mahatma Gandhi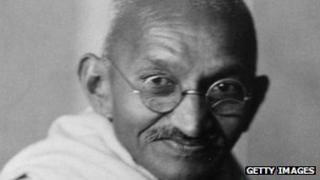 Hundreds of letters, papers and photographs related to Mahatma Gandhi will go on display in India's capital, Delhi, from 30 January.
The archive belonged to Hermann Kallenbach who became a close friend of Gandhi when he lived in South Africa.
The collection will be displayed for the public at the National Archives.
"This is a major collection of Gandhi's early years," Professor Mushirul Hasan director-general of the National Archives told the BBC.
"They tell you a lot more about Kallenbach than Gandhi and it was very important to acquire the letters," said Mr Hasan.
In what is thought to be a rare move, the Indian government struck a private deal with Kallenbach's family to purchase the collection last year for £700,000 ($1.1m) ahead of a planned auction by Sotheby's.
Kallenbach, who was a gymnast and body builder, also sent Gandhi what commentators describe as "charming love notes", which the latter destroyed.
'Controversial relationship'
Most of the letters were written by family, friends and others, with very few written by Gandhi himself.
They include several letters that could provide insight into the relationship between Mahatma Gandhi and Hermann Kallenbach.
The two men met in 1904 in South Africa and their relationship was at the centre of a controversial book released in 2011.
Great Soul: Mahatma Gandhi and His Struggle With India, written by Pulitzer Prize winning author Joseph Lelyveld, alluded to a very intimate relationship between them.
But Mr Lelyveld has denied all claims that he called Gandhi a racist or bisexual in the book.