Ashis Nandy: India police probe academic for 'caste slur'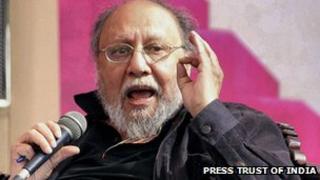 Police in the Indian city of Jaipur are investigating controversial remarks made by a leading academic at the Jaipur Literature Festival.
Professor Ashis Nandy, a sociologist and commentator, was reported as saying that some of India's most disadvantaged groups were the "most corrupt".
He later clarified saying he meant that the poor and disadvantaged were more likely to get caught than the rich.
But a police complaint has been lodged against him.
A number of political parties have criticised Prof Nandy's reported remarks, but several academics have also supported him.
Former chief minister of Uttar Pradesh state and low-caste Dalit leader Mayawati said that he should be "sent to jail".
Clarification
"Most corrupt people come from Other Backward Classes, scheduled castes and scheduled tribes [three disadvantaged groups]," Prof Nandy was quoted as saying during a panel discussion at the festival on Saturday.
Prof Nandy later clarified his comments.
"I have been misquoted. What I meant was that most of the people getting caught for corruption are people from OBC, SC and ST communities, as they don't have the means to save themselves unlike people from upper castes," he is quoted as saying by The Hindu newspaper.
He is also quoted as saying by the NDTV news channel that he was sorry if anybody was hurt because of the misunderstanding.
The police have said they are investigating the remarks and are likely to question the organisers of the literature festival.
"We have sought video footage of the session in which he [Prof Nandy] made the remarks and also his clarification to be put on record," senior Jaipur police official Girraj Meena told the Press Trust of India news agency.
Poet Ashok Vajpayee said Prof Nandy was a "serious thinker" and had made the comments in a certain context.
"The context is being bypassed which is unfortunate. We are becoming intolerant. Everybody has a right to disagree but the matter is being politicised and politicians demanding action is unfair," he said.
The five-day Jaipur Literature Festival, which is attended by thousands of people every year, has seen controversy in the past.
Last year, author Sir Salman Rushdie withdrew from the festival after reports of a death threat.
He was also forced to abandon plans to address the gathering by a video link after Muslim groups protesting against his book The Satanic Verses threatened to march on the venue. The author's 1988 book remains banned in India.