India police to question Ashis Nandy over 'caste slur'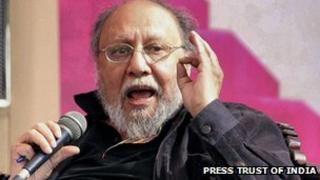 Police in India will be questioning a leading academic in connection with the controversial remarks he made at the Jaipur Literature Festival.
Sociologist Ashis Nandy was reported as saying that some of India's most disadvantaged groups were the "most corrupt".
He later clarified saying he meant that the poor and disadvantaged were more likely to get caught than the rich.
But a police complaint has been lodged against him.
The police said that Prof Nandy had been summoned for questioning and the festival organisers told not to leave Jaipur.
The organisers have also handed over to the police a video and a transcript of Prof Nandy's remarks during a panel discussion at the festival on Saturday.
A number of political parties have criticised Prof Nandy's reported remarks, but several academics have also supported him.
Former chief minister of Uttar Pradesh state and low-caste Dalit leader Mayawati said that he should be "sent to jail".
"Most corrupt people come from Other Backward Classes, scheduled castes and scheduled tribes [three disadvantaged groups]," Prof Nandy was quoted as saying during a panel discussion at the festival on Saturday.
He later clarified his comments.
"I have been misquoted. What I meant was that most of the people getting caught for corruption are people from OBC, SC and ST communities, as they don't have the means to save themselves unlike people from upper castes," he is quoted as saying by The Hindu newspaper.
He was also quoted as saying by the NDTV news channel that he was sorry if anybody was hurt because of the misunderstanding.
Dalit scholar Kancha Ilaiah said Prof Nandy had made "a bad statement with good intentions".
"While referring to Dalits as corrupt, Prof Nandy probably missed out saying that upper castes [in India] have always been corrupt," Prof Ilaiah said.
The five-day Jaipur Literature Festival, which is attended by thousands of people every year, has seen controversy in the past.
Last year, author Sir Salman Rushdie withdrew from the festival after reports of a death threat.
He was also forced to abandon plans to address the gathering by a video link after Muslim groups protesting against his book The Satanic Verses threatened to march on the venue. The author's 1988 book remains banned in India.