Shah Rukh Khan: India and Pakistan row over Bollywood superstar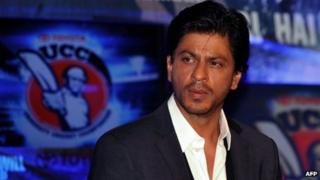 A row has broken out between India and Pakistan after Islamabad's suggestion that Delhi provide security to Bollywood superstar Shah Rukh Khan.
Home Secretary RK Singh said India was "quite capable" of taking care of the security of its people.
On Monday, Pakistani Interior Minister Rehman Malik requested India to provide security to the actor.
This came after Khan wrote a first-person account of how it felt to be a Muslim in India.
"I sometimes become the inadvertent object of political leaders who choose to make me a symbol of all that they think is wrong and unpatriotic about Muslims in India," the actor wrote in Outlook Turning Points, published by India's Outlook magazine in association with the New York Times.
"There have been occasions when I have been accused of bearing allegiance to our neighbouring nation than my own country - this even though I am an Indian whose father fought for the freedom of India.
"Rallies have been held where leaders have exhorted me to leave my home and return to what they refer to as my original homeland," he wrote.
Biggest star
On Monday, Rehman Malik said the actor was "born Indian and he would like to remain Indian, but I will request the government of India (to) please provide him security. I would like to request all Indian brothers and sisters and all those who are talking in a negative way about Shah Rukh, they should know he is a movie star".
India on Tuesday dismissed Mr Malik's suggestion and advised him to look after the security of Pakistani citizens.
"We are capable of looking at the security of our own citizens. Let him (Rehman Malik) worry about his own," Mr Singh told reporters.
Khan is one of Bollywood's biggest stars with a massive fan following in India and abroad. He has appeared in more than 70 films, anchored television shows and done innumerable advertisements.
He also owns the Kolkata Knight Riders team of the lucrative Indian Premier League cricket tournament.
Khan has family roots in the Pakistani city of Peshawar and has a huge fan following there too.
In the first-person piece, the actor also wrote about making a film called My Name is Khan - with a tagline And I'm not a terrorist - after he was stopped at US airports after the 9/11 attacks.
"I became so sick of being mistaken for some crazed terrorist who coincidentally carries the same last name of mine that I made a film, subtly titled My Name is Khan (and I am not a terrorist) to prove a point.
"Ironically, I was interrogated at the airport for hours about my last name when I was going to present the film in America for the first time," he wrote.