Salman Rushdie: Calcutta visit to promote Midnight's Children cancelled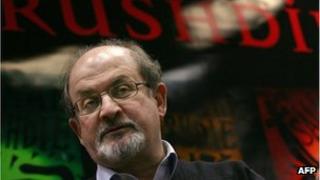 Author Sir Salman Rushdie's visit to the Indian city of Calcutta to promote the Midnight's Children film has been cancelled at the last minute.
A cinema chain official said an event to promote the film had been scrapped.
The author was also expected to drop in at a literary event at a book fair where director Deepa Mehta and actor Rahul Bose were addressing a session.
Organisers of the event said the police asked for a written guarantee that the author would not attend.
Sir Salman is considered a controversial figure in India where his 1988 book The Satanic Verses remains banned.
Last year, he withdrew from the Jaipur Literature Festival after reports of a death threat. He was also forced to abandon plans to address the gathering by a video link after protesters threatened to march on the venue.
The film based on Sir Salman's novel of the same name opens in India on Friday.
Correspondents say it is believed that the police told the organisers that if Sir Salman came to the city he would be sent back immediately.
Also, reports said the state government did not want the author in the city - a few years ago, there were protests against the visit of the controversial Bengali writer Tasleema Nasreen and the authorities were concerned about similar protests and civil disorder.