Why Bihar has most fast-track courts in India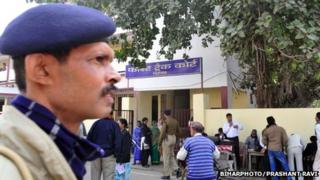 How quickly can a fast-track court deliver a verdict in India?
Six days, in the case of a court in the northern state of Bihar.
On 2 February, a judge in Katihar district imposed the death sentence on a 25-year-old man accused of raping his three-and-a-half-year-old niece.
Judge Bateshwar Nath Pandey also imposed a fine of 25,000 rupees ($468; £297) on the accused Sanjay Rishi.
The crime was committed on 24 January and the trial began on 28 January.
Charges were framed against Rishi on the basis of the statement by the victim's father within 24 hours of the incident.
"The six-day trial and judgement is a record of sorts," says Katihar chief of police, Ms Kim, who uses only one name.
Fast-track courts are back in news after the horrific gang rape and death of a 23-year-old student in Delhi last December.
The incident prompted the government to set up six such courts in the capital to deal specifically with cases relating to sexual assaults of women.
Backlog
Since 2001, when the federal government started setting up fast-track courts to help tackle the backlog of cases, about 1,200 such courts have been set up in the country and they have disposed of more than three million cases.
This is regarded by many as a considerable achievement given the fact that more than 30 million cases are pending in high courts and district courts in India.
With 183, Bihar has the highest number of fast-track courts in India and more than 80,000 cases are pending in these courts.
Bihar's fast-track courts were launched to tackle a spiralling crime wave and a slow and weak criminal justice system in the state. They deal with a wide variety of criminal cases, including those relating to crimes against women.
Since 2006, these courts have convicted over 75,000 people, who have the right to appeal in higher courts.
Mukesh Kant, a lawyer in the state capital, Patna, says nearly 40% of the people convicted by fast-track courts have been bailed by the high court.
The fact that Bihar has one of the lowest conviction rates (15.5%) in India does not help matters.
Many like Mr Kant and former police chief Devki Nandan Gautam are sceptical about fast-track courts, saying that they are a "temporary arrangement and ad-hoc response" to the rising backlog of cases in Indian courts.
Mr Kant says fast-track courts have not been very successful in India.
"Sometimes, there is also the danger of miscarriage of justice," he says.
Last April, the Patna high court demanded a clarification from a fast-track court in Siwan district for acquitting Uma Kant Singh, an MP from the regional Rashtriya Janata Dal (RJD) party, and his son Jitendra Swami in a case of kidnapping and murder in 2000.
Earlier, in August 2004, the high court criticised another fast-track court in Siwan for allowing the local RJD MP Mohammed Shahabuddin to attend parliament even as his petition for bail was pending in the high court.
Mr Shahabuddin is facing trial in more than three dozen criminal cases in a fast-track court set up inside a prison where he is lodged.
But some, like lawyer Indra Kumar Singh, believe that fast-track courts are essential to expedite trials in criminal cases.
"Barring a few aberrations and exceptions, they are delivering justice in cases effectively and speedily," says Mr Singh, who is an assistant public prosecutor at the Patna high court.
Social scientist Shreekant, who uses one name, says fast-track courts are the state's "admission of its failure".
"The fact of the matter is that normal courts need to function properly. Fast-track courts are only a remedial response," he says.