India's Tripura state holds elections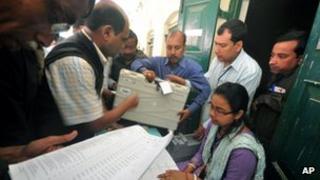 Polling has ended in the 60 assembly seats in the north-eastern Indian state of Tripura, where Communists are seeking a record fifth consecutive term in office.
Over 2.3 million voters were eligible to cast their ballots in the election.
Security was tight along Tripura's border with Bangladesh. Officials said polling was brisk and "incident free".
The main contest is between the Left Front and its allies and the Congress party and its partners.
Some 250 candidates belonging to 16 political parties and a number of independents are contesting the polls.
Tripura is the only state in India that is ruled by the Communists.
Led by the Communist Party of India (Marxist), the coalition Left Front has been in power for 20 years. Chief Minister Manik Sarkar has held the top post for the last 15 years.