Manmohan Singh: French fighter jet talks 'going well'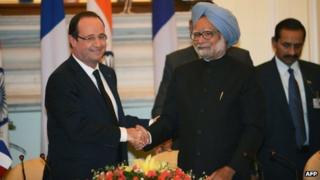 India's prime minister has said talks on a $12bn (£7.7bn) deal to buy 126 Rafale fighter jets from France have been "progressing well".
Manmohan Singh's comments followed a meeting with French President Francois Hollande, who is on a visit to India.
The deal has been delayed since India began talks with Rafale's manufacturer Dassault Aviation last year.
On Thursday, Mr Hollande made a fresh push to sell the aircraft during his talks with Indian leaders.
Indian officials have ruled out a deal during the president's visit.
"The discussion on the MMRCA (medium multi-role combat aircraft) contract are progressing well," Mr Singh told a joint press conference with Mr Hollande, AFP news agency reported.
The French president said "the prime minister and myself noted that some progress has been achieved in the discussions and I do hope we can reach a conclusion", the agency added.
Earlier on Thursday, Mr Hollande met his Indian counterpart, Pranab Mukherjee.
Afterwards, the French leader reiterated his country's support for Indian permanent membership of the United Nations Security Council.
The French president, who is on his first visit to Asia since taking office last May, is leading a high-powered delegation, comprising cabinet ministers, several officials and business leaders.
Mr Hollande is expected to hold talks with Indian Foreign Minister Salman Khurshid and will call on Sonia Gandhi, chief of the governing Congress party, as well as Sushma Swaraj, leader of the main opposition Bharatiya Janata Party.
He is due to visit Mumbai on Friday to meet Indian businessmen.