Veerappan film-maker to pay widow compensation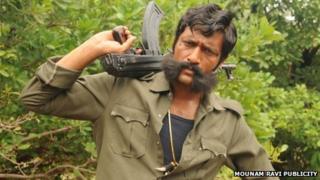 Makers of a film based on the life of India's most notorious bandit Veerappan have agreed to pay 2.5m rupees ($47,000; £30,000) to his widow.
Veerappan's widow Muthulakshmi has said the film violates her privacy and has the potential to damage the reputation of her family.
She and the film's director reached an out-of-court settlement.
Veerappan was on the run for some 20 years before he was killed by police on 18 October 2004.
The settlement meant that the film, called Vana Yudham and featuring several members of the dead bandit's gang in the cast, was released as planned on Thursday.
The dispute between Muthulakshmi and director AMR Ramesh came before India's Supreme Court, which urged both the sides to reach a compromise.
"The film makers have agreed to pay 2.5m rupees as compensation," Muthulakshmi's lawyer Sanjay Hegde told the BBC, describing it as a "binding agreement".
"The court also directed the film-makers to take out adverts in three major newspapers stating that the film is based on police records only," Mr Hegde said.
"Police records... [are] not tested in a court of law. They cannot be treated as final truth."
Mr Ramesh says he has undertaken years of research to make the film.
"I will abide by the agreement. But it will be difficult for me to raise that much money," Mr Ramesh said.
"It looks to me their only motive seems to be money," he added.
Ruthless and daring
Mr Ramesh said that he met Muthulakshmi three times during filming.
"I even asked her to play her real life role in the movie and say whatever she wants. My intention was to bring out the truth.
"I interviewed 250 people for the film. If they think the film wrongly portrays Veerappan, let them make another one," he added.
Muthulakshmi's lawyers told the BBC that they are happy with the compensation and will not press for cuts in the movie.
Muthulakshmi wanted the film makers to delete 32 scenes from the film.
The high court in Chennai, which previously heard the case, heard Muthulakshmi's objections but allowed the film to be released the film with just four cuts.
Koose Muniswamy Veerappan, a tall, wiry bandit with a trademark handlebar moustache, came to be considered the country's most ruthless and daring outlaw, accused of murders, kidnappings, smuggling and poaching.
He and his group were blamed for killing over 100 people, including police and forest department officials.
On Wednesday, India's president rejected clemency pleas for four men accused of being associates of Veerappan.
Mr Ramesh says the film also contains interviews with the four men, who were found guilty of a 1993 blast that killed more than 20 police officials.
Sentenced to death in 2004, the men have always maintained their innocence.