India parliament key budget session opens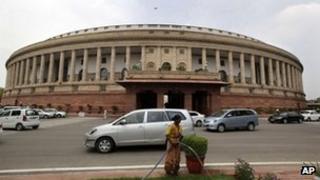 India's parliament has begun its key budget session where the government will seek to push several controversial economic reforms bills.
Finance Minister P Chidambaram is due to present the budget next week for the financial year starting April.
Other key bills to be presented in the session include reforms in insurance, pension and banking sectors.
In his opening speech, President Pranab Mukherjee said India's current economic situation was "difficult".
He said inflation had recently eased, but it was still a problem.
The president listed the government's efforts to improve the economy - he said a roadmap for fiscal consolidation had been announced, measures had been taken to bring in investment and there was a commitment to create 100 million jobs in the next decade.
Correspondents say India's growth rate has dipped recently amid slowing exports, a decline in investment and subdued domestic demand.
But, government's reforms proposals have been delayed due to resistance from the opposition parties.
Ahead of the opening of the session, Prime Minister Manmohan Singh appealed to MPs to engage in "a productive and constructive debate" in parliament.
The last two sessions were often disrupted by opposition MPs protesting against corruption and government's reforms plans.
This time too, the opposition parties have said they would raise issues like inflation and allegations that there was corruption in the purchase of helicopters from Italian aerospace and defence firm Finmeccanica.