Delhi rape: Court charges juvenile with rape and murder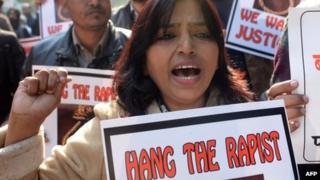 A court in India has formally charged a 17-year-old accused in the fatal gang rape of a woman in the capital Delhi last month.
The Juvenile Justice Board has charged the boy with rape, murder and other crimes, including kidnapping. It set 6 March as the start of the trial.
If convicted, he faces a maximum of three years in a reform facility.
He denied the charges - as have five other suspects on trial at a specially convened fast-track court.
They face the death penalty.
The brutal assault shocked India and raised a debate over the treatment of women in the country.
The victim, a physiotherapy student who cannot be named in India for legal reasons, and a male friend were attacked on a bus on 16 December.
Police said the assailants beat both of them, and then raped the woman. She suffered massive internal injuries and died nearly two weeks later.