India media says budget a 'balancing act'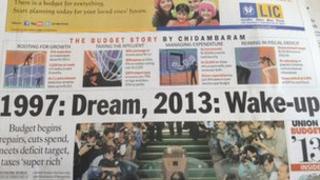 India's media has said Friday's budget was a "wake-up call" for the slowing economy, but criticised the lack of any significant reforms to boost growth.
Finance Minister P Chidambaram announced an unexpected rise in public spending to revive the economy.
However, he vowed to cut the country's deficit as he unveiled new taxes targeting the super rich as well as large businesses.
India's growth rate has been hurt by both global and domestic factors.
Asia's third-largest economy is projected to grow by 5% in the current financial year, far below the 7.6% growth projected in last year's budget.
The growing fiscal and current account deficits have triggered warnings of a downgrade of the country's credit rating.
The Indian Express said Mr Chidambaram's budget was "more in the nature of a wake-up call that the economy cannot operate in the business-as-usual mode any longer".
"The budget speech represents a basic promise that the government must deliver on to prevent the economy from slipping further," the newspaper said in an editorial.
The Hindu said the finance minister had drawn up a "stop-gap" budget with "one eye on fiscal health and the other on the next general election" due in 2014.
In an editorial the newspaper said that "though this budget will be last full budget of the [ruling] government, the fact the general elections are still more than a year away means the finance minister has had to squarely balance the competing claims of economics and politics.
"The ensuing balancing act explains why there are no headline grabbing revenue or expenditure measures in the budget," it said.
The Times of India said the budget "plays safe when it should have lifted the national mood".
"The problem with the budget is that it's long on growth-oriented rhetoric but short on big-ticket ideas that slowdown-hit India needs right now", the newspaper said.
"Yes, it could have been worse. Still, the budget just about meets people's expectations, not their aspirations."
The Economic Times lauded the finance minister for rejecting populism in an election year.
"Never before has a finance minister sought to win the next elections not through tax breaks and freebies, but by accelerating GDP growth and taming inflation through fiscal consolidation," analyst Swaminathan P Ankesaria Aiyar wrote in the newspaper.
"Mr Chidambaram has gambled on good economics proving to be good politics too. This is risky, but admirably bold."
"Politically Correct, Economically, Not Wrong", headlined Mint newspaper.
The newspaper said Mr Chidambaram had unveiled a budget that the ruling Congress party-led government "can go to the polls with, manages not to displease investors and industry, and bets on growth to make his math right".