India airports on alert over Italy ambassador Mancini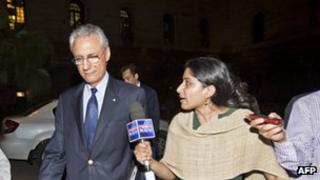 Airports across India have been told to stop Italian ambassador Daniele Mancini if he tries to leave the country, a home ministry official told the BBC.
It follows a Supreme Court order to Mr Mancini not to leave India after Rome's refusal to return two marines charged with the murder of two fishermen.
The court had allowed the marines to go home to vote in last month's elections.
Italy said on Friday it was seeking a "friendly agreement" with India to resolve the row.
The office of President Giorgio Napolitano said Italy wanted an agreement based on "international law".
The statement followed talks between Mr Napolitano and the defence, interior and foreign ministers.
Mr Mancini had personally assured the court the marines would return on time.
Home ministry officials said their advisory is just a routine follow-up of Thursday's Supreme Court order.
There has been no comment from the Italian embassy in Delhi or Ambassador Mancini.
The case of the Italian marines - Massimilian Latorre and Salvatore Girone - has led to a diplomatic row between India and Italy.
On Wednesday, Prime Minister Manmohan Singh warned that "there will be consequences" unless Italy returned the marines.
In unusually strong language, the prime minister said Italy's refusal to do so was "unacceptable".
Rome's decision has come as a major embarrassment for the Indian government and opposition parties have been demanding their immediate return.
The marines are accused of shooting the fishermen in Kerala in February 2012. They said they mistook them for pirates.
Italy argues that because the case is now the subject of international maritime law, it had been decided that the pair will not return to India once the Supreme Court deadline has expired.
Rome says it wants its nationals to be tried in Italy. As the incident took place in international waters, Italy believes India has no jurisdiction in the case.
India however maintains that the fishermen were Indian and on board an Indian fishing boat at the time of the incident.