Many killed in India bus crash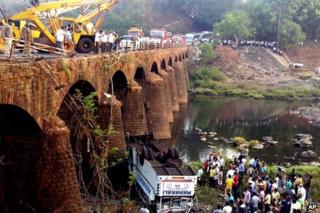 A bus has careered off a bridge in the western Indian state of Maharashtra, killing at least 37 people.
The bus fell into a dry river in Ratnagiri district, about 200km (125 miles) south of Mumbai, police say.
At least 14 others are reported to have been injured, and have been admitted to local hospitals.
More than 110,000 people die each year on India's roads. Accidents are common, often due to poor driving or badly maintained roads and vehicles.
A police official said the luxury bus, carrying more than 50 passengers, was travelling on a state highway from Goa to Mumbai when the "driver suddenly lost control" early on Tuesday.
Police confirmed there was one Russian passenger on the bus, but no other foreign nationals.
The vehicle is reported to have lost control while crossing the bridge. No other vehicle was involved, and the driver is among the injured.
Police say they are conducting an investigation and the injured have been taken to three hospitals in Khed area.