Yuvraj Singh cancer memoir 'shares grief'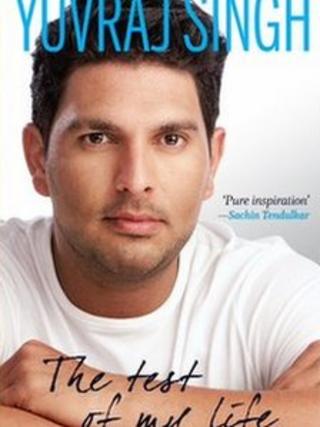 Indian cricketer Yuvraj Singh says he wrote about having cancer to share his "grief so someone else can feel they are not alone when the chips are down".
His 232-page memoir The Test Of My Life is released on Tuesday.
Yuvraj returned to international cricket less than a year after he was diagnosed with a rare lung cancer.
The 31-year-old underwent treatment in the US in 2012. His decision to speak about his illness is rare in a country where few celebrities do.
'New struggles'
He writes in the book that his story is "about my life cancer, with cancer, and my life after it".
"It is a story about struggle, denial, acceptance, and new struggles ahead."
He says a senior official of the Indian Cancer Society in Delhi had told him that "it's hard to believe no celebrity has ever had cancer" in a country where five million people have the disease.
The official told him the last celebrity to talk openly about cancer was the late film actress Nargis Dutt.
"I was the first person in the country since the beautiful Nargis Dutt to have cancer? I don't think so," Yuvraj writes in the book, which is published by Random House India.
"Maybe I am just the first well-known person in India who is not afraid to talk about living with it [cancer], owning it, getting bald because of it, and battling it."
The cricketer writes that sleeplessness, coughing fits and an inability to eat were some of the early signs of his illness, some of which he faced while playing in the World Cup tournament in Mumbai in 2011.
He was the man of the tournament in the World Cup, helping his country win the trophy for the first time since 1983.
"Ideally, I would have taken my foot off the pedal, gone and seen a doctor," Yuvraj writes.
"My body was pleading with me to do it. I knew something was off in the World Cup. I would struggle for breath when I ran two runs or more, After a bowling spell I would be winded.
"Maybe I was just afraid to accept it."
Chemotherapy made Yuvraj lose "his energy, his appetite and hair hair - and his will to survive", according to the book.
"Cancer turns you upside down. In body, in mind, in spirit," the cricketer writes.
Yuvraj says he read the now disgraced cyclist and cancer survivor Lance Armstrong's autobiography It's Not About The Bike during his chemotherapy treatment, using it it as a "friend, a guide, an ally".
Armstrong is now being sued for fraud amid claims his books contain lies, but the cricketer says reading the cyclist's book at the time made him "want to tell the world what happened" to him.
"If there is one person whom I can help by telling my story, as I was helped by Lance Armstrong's cancer story, I will be very happy. I will feel I did not waste the year of my life that vanished."
Yuvraj is one of the most flamboyant cricketers of his generation. He played his last Test against England in December.
He was dropped from the Test side in the current series against Australia, although he continues to be a member of the one-day squad.