India DMK party ministers leave government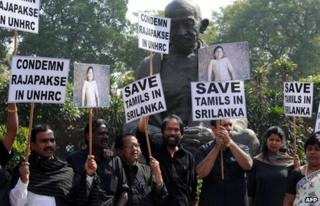 Five federal ministers from the DMK party, a former ally of India's ruling coalition, have submitted their resignations to PM Manmohan Singh.
On Tuesday, the DMK withdrew from the Congress party-led government over its failure to condemn alleged atrocities against Sri Lankan Tamils.
The party, with 18 MPs, held five ministerial posts in the government.
A senior minister belonging to the Congress party said the government was "stable" and would remain in power.
"We are not a lame duck government. No political party has come out and challenged its majority," Minister for Urban Development Kamal Nath told reporters on Wednesday.
The DMK is the main opposition party in the southern state of Tamil Nadu, which has a large population of Tamils.
DMK chief M Karunanidhi had demanded that the Congress-led United Progressive Alliance (UPA) government pass a resolution in parliament condemning alleged atrocities committed by Sri Lankan forces against Tamils during the island's long civil war.
He has also protested against the Indian government's position on a resolution on alleged war crimes in Sri Lanka which is before the United Nations Human Rights Council (UNHRC). He wants India to push for stronger language in the resolution, including the use of the word "genocide".
Late on Tuesday, party leaders met President Pranab Mukherjee and handed over a letter withdrawing the support of its MPs for the government.
Protests in parliament
Three DMK ministers - SS Palanimackam, S Gandhiselvan and S Jagatrakshakan - met the prime minister on Wednesday morning and submitted their resignation letters, reports said.
The remaining two ministers - MK Alagiri and D Napolean - have submitted their resignations separately, media reports said.
The issue of Sri Lankan Tamils was also raised in parliament by MPs from the DMK and AIADMK, another regional party from Tamil Nadu.
Slogan-shouting MPs protested in both houses of parliament, leading to several adjournments on Wednesday morning.
Meanwhile, India said it would push for a "strong" resolution against Sri Lanka in the UNHRC and that the government had suggested amendments to the draft resolution being drawn by the US.
"India's position has always been and remains that the UNHRC should adopt a strong resolution that would send a resolute message to Sri Lanka and goad Sri Lanka to accept an independent and credible investigation," Finance Minister Chidambaram told reporters on Wednesday.
The government lost another important ally - the Trinamool Congress party of West Bengal - last September. It was upset over the government's plan to open the retail sector to global supermarket chains and other reforms.
The government, which needs 271 MPs to stay in power, has the support of at least 280 MPs. Elections are due next year.