MK Stalin: India DMK leader's house 'raided' in Chennai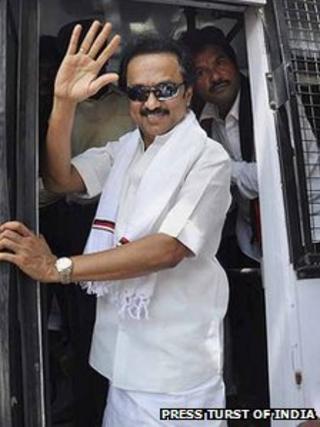 Police have raided the home of a leader of a former ally of India's ruling coalition in connection with alleged import of foreign cars.
MK Stalin, whose house is being raided, is a leader of the regional DMK party and son of party chief M Karunanidhi.
On Tuesday, the DMK pulled out of the Congress party-led government over its failure to condemn alleged atrocities against Sri Lankan Tamils.
DMK leader TR Baalu has described the raid as "political vendetta".
Mr Baalu said Thursday morning's raid was "linked to the DMK exiting" the federal coalition government.
"Congress has stooped to this level, very sorry to say this," he told reporters.
But senior Congress party leader and Finance Minister P Chidambaram said he "strongly disapproved" of raids by the Central Bureau of Investigation.
"It is bound to be misunderstood," he told reporters.
Details about the raid are still sketchy, but some reports say they are are taking place at 19 locations in the southern state of Tamil Nadu, including its capital, Chennai, where Mr Stalin lives.
They say the police is investigating alleged evasion of taxes in import of foreign cars used by Mr Stalin and his family.
"I am being targeted. I am unaware of the reasons behind the raid. We will counter this politically," Mr Stalin told reporters.
On Thursday five federal ministers from the DMK submitted their resignations to PM Manmohan Singh.
The party, with 18 MPs, held five ministerial posts in the government.
A senior minister belonging to the Congress party said the government was "stable" and would remain in power.
The DMK is the main opposition party in the southern state of Tamil Nadu, which is predominantly Tamil.
DMK chief M Karunanidhi had demanded that the Congress-led United Progressive Alliance (UPA) government pass a resolution in parliament condemning alleged atrocities committed by Sri Lankan forces against Tamils during the island's long civil war.
He has also protested against the Indian government's position on a resolution on alleged war crimes in Sri Lanka which is before the United Nations Human Rights Council (UNHRC). He wants India to push for stronger language in the resolution, including the use of the word "genocide".
Meanwhile, India said it would push for a "strong" resolution against Sri Lanka in the UNHRC and that the government had suggested amendments to the draft resolution being drawn by the US.