Delhi gang rape: India court lifts media gag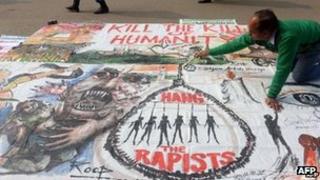 The Delhi High Court has allowed the press to cover the day-to-day trial of four men charged with the fatal gang rape of a student on a bus in December.
Justice Rajiv Shakdher's ruling overturns a gagging order on the media by a special fast-track trial court.
However media coverage of the trial will be limited and come with safeguards.
Justice Shakdher ordered the press not to disclose the name of the victim, her family members or witnesses.
On Thursday, a bill on tough rape laws was passed by the upper house of the parliament.
The bill, containing harsher punishments for rapists, including the death penalty, was cleared by the lower house of parliament on Tuesday.
'Safeguards in place'
"The Delhi High Court has put safeguards in place and allowed one journalist each from an accredited national news daily to sit in court proceedings of the 16 December gang rape case," Dayan Krishnan, the special prosecutor in the trial, told the AFP news agency.
"We are fine with that because of the safeguards," he said.
"The court has also put restrictions on what can be reported by journalists. They cannot report anything about the victim or her family, which is what we were worried about."
The brutal gang rape of the student in Delhi sparked nationwide protests and demands for tougher laws.
Six people were arrested for the abduction, rape and murder of the woman.
One of the suspects, Ram Singh, was found dead in his shared cell at Delhi's Tihar jail earlier this month.
Four others are being tried by the special court and could face the death penalty if convicted.
The sixth suspect is a minor and is being tried by a juvenile court. He can be sent to a reform home for a maximum of three years.