Indian media hails 'historic' cricket win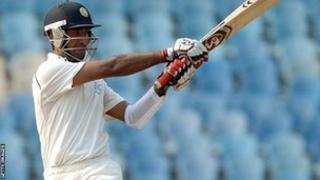 India's media have hailed their cricket team's 4-0 whitewash over Australia.
India won the final Test in Delhi on Sunday by six wickets.
This is the first time India have won four Tests in a series. It is also the first time that Australia have lost a series 4-0 since a defeat by South Africa in 1970.
India's MS Dhoni also became the first captain in Test history to win all four matches in a series despite losing every toss.
Correspondents say India's turnaround against a relatively inexperienced Australian team after losing three Test series - including one against Australia 0-4 - in a row over the past year was a remarkable achievement.
Indian captain Dhoni told reporters that it was wrong to see the win as "revenge".
"I think its better to say that it was a good series for us," he said.
"The last one-and-a-half-year period hasn't been great for us in Tests, but the team showed a lot of character here."
'Spectacular'
Lostralia, said the DNA newspaper in its headline.
"Life ends at 4-0, mate. So, how does it feel?" the newspaper said.
Four played and Ecstasy! said The Times of India in its headline.
"India needed fresh ideas and young legs to come out of the pits they had fallen into. Thankfully, the team managed to find those men and the result has been spectacular, at least for now...," the newspaper said.
India sends Australia down under, said The Hindu in its headline.
"The Australian debacle one again underlined the team's poor preparations and lack of self-belief," the newspaper said.
Whitewash: Revenge served cold, said Hindustan Times in its headline.
The newspaper described the win as "historic" and said it had helped India to "regain self-belief... that had been shattered in two overseas Test series routs in England and Australia, and the home reverse against England late last year".
Sunday's defeat ended a miserable series for the tourists, who dropped four of their players for the third Test, including vice-captain Shane Watson for a breach of team discipline.