India state restricts 'addictive' cough syrup sale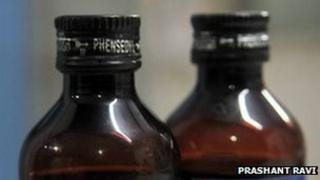 Authorities in the Indian state of Bihar have imposed restrictions on the sale of a cough syrup after reports that it was being widely used as a recreational drug.
Chemists have been directed not to stock more than 1,000 bottles of Phensedyl syrup at a time.
A campaign on the risks of taking the syrup is also being launched in schools, authorities say.
Over 10 million bottles of Phensedyl were purchased in Bihar during 2011-12.
Authorities say it is also being smuggled to neighbouring Nepal and Bangladesh.
Cough syrup, which is sold as an over-the-counter medicine, is sometimes used by addicts to get high, police say.
A 100ml bottle of Phensedyl costs around 70 rupees ($1.28; 84 pence) in Bihar and sells for four times the price in Nepal and Bangladesh, where it is banned.
'Menace'
Drug inspectors have asked chemists to keep records of buyers, though it is unclear how this can be implemented in busy shops.
"The rampant use of Phensedyl by young men has become a serious threat and very soon we're going to launch an awareness drive in various schools of the state," Bihar drug controller Hemant Kumar Sinha told the BBC.
Doctors say the cough syrup contains codeine phosphate which, if taken beyond prescribed limits, makes people "drowsy and intoxicated".
"People who take it for a long period of time can become addicts. Sometimes it can prove to be fatal," says Dr Atul Verma.
Sanjay Kumar, a former addict, said he quit after an addict friend died.
"We used to consume six-seven bottles every day. I did that for seven years. It was so easily available over the counter at the chemist shops. It was also cheap and gave a good high," he said.
A pharmaceutical distributor in the capital city of Patna said school students were the main customers.
At least 16 people died in the Pakistani city of Lahore last year after drinking what police say was toxic cough syrup.