India: PM Manmohan Singh says government 'stable'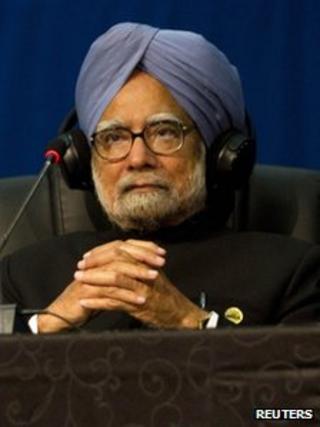 India PM Manmohan Singh has rejected speculation about early general elections after a key ally left the government, saying his administration remained stable.
Mr Singh said he expected the elections to take place on schedule next year.
The DMK recently left the government over its failure to condemn alleged atrocities against Sri Lankan Tamils.
The government, which needs 271 MPs to stay in power, has the support of at least 280 MPs.
The regional DMK party, which withdrew its support last week, has 18 MPs and held five ministerial posts in the Congress party-led government.
The government lost another important ally - the Trinamool Congress party of West Bengal - last September. It was upset over the government's plan to open the retail sector to global supermarket chains and other reforms.
In the past weeks, Samajwadi Party, a crucial ally from populous Uttar Pradesh state, has been expressing reservations about its support.
Mr Singh conceded that there were "uncertainties" in running coalitions, but said he was hopeful that the government would complete its five-year term and push economic reforms.
"Alliances do have compulsions which have to be taken into account. We will not allow these compulsions to derail the reforms process or to create a situation where the essential task of governing the country can be put aside," he said.
"We are certainly dependent on the goodwill of our allies and I would be the last to deny that there are uncertainties."
There has again been speculation about the revival of a "third front" - a loose alliance of regional parties - to take on the ruling Congress party and the main opposition Bharatiya Janata Party (BJP) in the general elections.