Is Novartis ruling a watershed?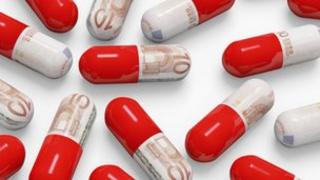 "It is a landmark judgement," Sakhtivel Selvaraj, a leading Delhi-based health economist, tells me, hours after the Indian Supreme Court's decision to reject a plea by Swiss pharmaceutical firm Novartis to patent an updated version of its cancer drug, Glivec.
Monday's decision means generic drugmakers can continue to sell copies of the drug at a lower price in India, one of the fastest growing pharmaceutical markets in the world.
For one, Dr Selvaraj says, the judgement upholds India's "progressive" patent laws that throw out frivolous patents and clearly distinguish between what is new and what already exists.
"The law sends out the signal that we don't want to encourage companies to take patents on substances which already exist."
More importantly, the decision is a major boost to cheap life-saving drugs in a country where the healthcare system cannot cope with the demands on it and most people end up buying their own medicines if they can afford to.
India spends a little over 4% of its GDP on healthcare, compared with an average of 8-9% among developed countries.
Some 70% of this spending is by individuals and households. A substantial amount of household spending in India is on medicines, government figures show. Most of that is on generic drugs as patented drugs comprise less than 10% of drug sales.
That explains how critical cheap drugs are to saving lives in India.
Also, as experts like Dr Selvaraj point out, the judgement will be happy tidings for people around the world.
India, they say, is the "pharmacy of the world".
Some 40% of the drugs produced by its $11bn pharmaceutical industry, one of the largest in the world, are exported. The majority of the exports comprise cheap generics.
Not surprisingly Novartis is unhappy with the ruling - it says the move "discourages innovative drug discovery essential to advancing medical science for patients".
The company had sounded out a warning ahead of the judgement.
"If the situation stays as now, all improvements on an original compound are not protectable and such drugs would probably not be rolled out in India," Paul Herrling, former Novartis's head of research and development, told the Financial Times.
"Why should we?" he added
Experts like Dr Selvaraj believe such warnings are specious.
"India can actually hold such a threat out to other developing countries, not the other way round. A substantial amount of its generic drug market is in Europe and the US," he says.
Also, India possibly doesn't need to worry about this decision affecting foreign investment in its drug industry, which, at less than 2%, is low.
Most foreign pharmaceutical companies appear keener to acquire Indian companies, or they trade in imported medicines.
"They make very little medicine here," Dr Selvaraj says.
Glivec, which is used to treat chronic myeloid leukaemia and other cancers, costs about $2,600 (£1,710) a month. The generic equivalent is currently available in India for just $175.
Do drugs really have to be so expensive? asks Michelle Childs of Medicins Sans Frontiers.
It's a good question.
"It is true that innovative new drugs can change the way we treat people and we need more of them," she wrote in an article on the BBC News website last week. "But innovation is of little use if people cannot access new treatments because they are so expensive."
Clearly, as Michelle Childs says, a new approach is needed.