Bollywood star Shah Rukh Khan opens IPL tournament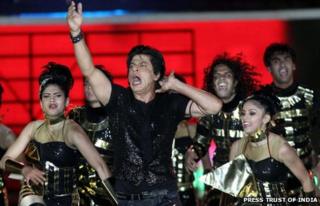 Bollywood star Shah Rukh Khan has performed at the opening of the sixth edition of the Indian Premier League (IPL) in the eastern city of Calcutta.
Nine teams will play 72 Twenty20 matches over 54 days.
Players from around the world will compete in the world's richest cricket league.
Eleven Sri Lankan cricketers will play in the tournament despite a political row which has seen them banned from the southern state of Tamil Nadu.
Tuesday's spectacular opening ceremony took place at the Salt Lake Stadium and featured top Bollywood stars like Khan, Katrina Kaif, Deepika Paduokone and international rap artist Pitbull.
The 105-minute show also featured flying drummers, colourful balloons, percussionists and fireworks.
Bollywood's Khan, Kaif and Padukone performed dance numbers from hit films, while Pitbull sang some of his hit songs.
The Kolkata Knight Riders, owned by Khan, will play the first match of the tournament on Wednesday against the Delhi Daredevils.