PM Manmohan Singh: India economic downturn temporary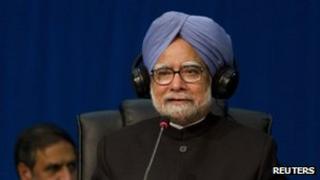 India's PM Manmohan Singh has said he is confident the country's economy will bounce back and that the current downturn is "temporary".
Mr Singh said he did not believe "our future is at 5% growth" and added that India "can get back to 8% growth rate".
India's growth has dipped in recent months, mostly due to a slowdown in its manufacturing and services sectors.
Foreign investors have also been wary of entering the Indian market amid a delay in key reforms.
In February, India lowered its growth forecast to 5% for the year to 31 March 2013, underlining the challenges it faces in reviving the sluggish economy.
'Disappointing'
"Business mood which was unduly optimistic in 2007, is unduly pessimistic today," the prime minister said in his address to an annual gathering of India's industry leaders, hosted by the Confederation of Indian Industry (CII), on Wednesday.
"Growth has slowed to 5%, which is clearly disappointing... We are seeing temporary downturn, partly due to global factors. We can get back to 8% growth rate," he said.
The prime minister admitted that there were problems of "corruption, bureaucratic inertia" and that "managing [a] coalition [government] is not easy".
"But these problems have not arisen suddenly. They were all there even earlier when the economy was growing at 8%," he added.
Mr Singh said the government would take decisive action to push growth.
"We are determined to do everything possible to achieve the fiscal deficit target," he said.
The economic slowdown combined with high rates of inflation has been worrying business and industry leaders.
The country's growth rate dipped to 4.5% in the three months to end of December, the weakest pace in 15 quarters.
Last month, the Reserve Bank of India (RBI) lowered its key interest rate for the second time in three months in an attempt to revive the economy.
But analysts say creating an environment conducive to investment is key to reviving the economy.
For its part, the government has taken some measures to spur investment as well as to cut the deficit.
It recently opened up key sectors such as multi-brand retail and aviation to foreign investors.
Finance Minister P Chidambaram has also pledged to cut India's public deficit to 4.6% of the GDP in the next financial year beginning 1 April, from 5.2% in the current financial year.
Mr Chidambaram also recently unveiled new taxes on the super rich as well as large businesses, which he said would help offset increased spending by the government needed to spur economic growth.