India's Rahul Gandhi calls for 'inclusive' growth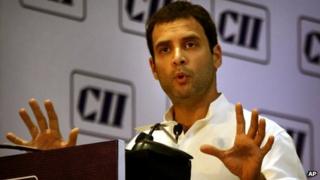 Rahul Gandhi, senior leader of India's ruling Congress party, has called for "inclusive" growth in his first-ever address to business leaders.
India was "bursting with dreams and ideas" and "embracing the excluded" was crucial to nation building, he said.
Mr Gandhi is the scion of India's powerful Nehru-Gandhi dynasty and is tipped to be a future prime minister.
Critics called his speech disappointing as it did not offer any ideas on what he planned to do to revive the economy.
India's growth has dipped in recent months, mostly due to a slowdown in its manufacturing and services sectors.
Foreign investors have been wary of entering the Indian market amid a delay in key reforms and the government's attempts to curb high food inflation have remained unsuccessful.
In February, India lowered its growth forecast to 5% for the year to 31 March 2013, underlining the challenges it faces in reviving the sluggish economy.
'Vague'
In his address to an annual gathering of India's industry leaders, hosted by the Confederation of Indian Industry (CII), Mr Gandhi emphasised the need to empower common people and provide basic infrastructure to all.
"Millions of Indians are brimming with energy. We are now sitting on an unprecedented tide of transformation. This tremendous movement of people and ideas are going to define this country in the 21st century," he said.
Praising the business community, he urged them to make use of India's abundance of manpower.
"It's our duty to provide India with an infrastructure that connects our villages and cities and the rest of the world," he said and talked about a public-private partnership as being critical to the country's growth.
But Mr Gandhi, who was recently elevated to the post of the Congress party vice-president, did not offer any solutions to the problems that bedevil India's economy and critics said his speech was rambling and non-specific.
"He wants to change the political system and how it works which is an interesting thought. But the important part is execution about which he is vague or does not yet have answers," Reuters quoted Anjali Verma, economist at PhillipCapital, as saying.
The economic slowdown combined with high rates of inflation has been worrying India's business and industry leaders.
On Wednesday, Prime Minister Manmohan Singh, in his speech to business leaders, said he was "confident" the economy would bounce back and that the current downturn was "temporary".
In recent months, the government has taken some measures to spur investment as well as to cut the deficit.
It recently opened up key sectors such as multi-brand retail and aviation to foreign investors.
Last month, the Reserve Bank of India (RBI) lowered its key interest rate for the second time in three months in a bid to curb inflation.