India protests over student's death in Calcutta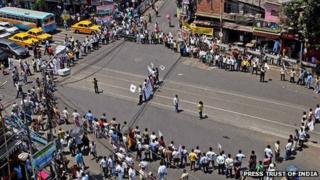 There have been protests in the eastern Indian city of Calcutta over the death of a young man, belonging to a communist students' group.
Sudipta Gupta, 22, died while being taken in a bus to prison for defying prohibitory orders during a protest by the communist union on Tuesday.
The union claims that Mr Gupta died after being assaulted by the police.
The police say he hit a pole while hanging out of the bus and died of the injuries sustained in the accident.
Activists of the Students' Federation of India (SFI), a communist union, blocked city roads and held peaceful demonstrations on Thursday demanding a judicial inquiry into the incident.
A doctor from a city hospital, which conducted the post-mortem on Mr Gupta, told the Press Trust of India news agency that the student "received a head injury after being hit by a blunt object".
"I can't say anything more than this," Dr BN Khali said.
Calcutta police joint commissioner Javed Shamim told The Indian Express newspaper that Mr Gupta's death was an accident.
"The policemen escorting the students on the bus were unarmed. How could they beat them up? There was no overcrowding on the bus - there were 20 vehicles to carry about 500 students."
The victim's father has refused an offer of compensation from the government and said he believed his son was "beaten to death".
"Is it justice? I was a government employee. I get pension. I cannot accept money. It is against my principles. I will fight for justice," Pranab Kumar Gupta said.